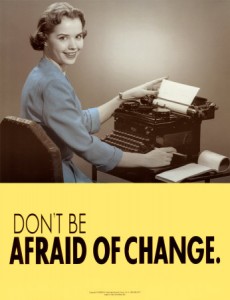 Theres a lyric in one of my favourite Pink songs (I'm a big Pink fan, did you know) – that goes:
L.A. told me, you'll be a pop star. All you have to change, is everything you are …
I always thought of that as kinda … judgemental I suppose. Well, actually I think that's the whole point of the song, but now I'm thinking how could that be anything but the truth.
If you want to become something, or someone, different, especially a change as vast as going from an unknown singer to an internationally famous household name, surely you do have to change everything about yourself. In fact isn't that the whole point? You're becoming someone and something different, changed.
But change, well, change is just damn uncomfortable.
I listened to a clip from Bob Proctor the other day, You can't polish a gem without friction, which is a very nice way of saying if you're making some changes in your life then you're flat out going to be uncomfortable.
I'm working on changing my appearance at the moment which I wrote about here and got to say, pretty damn uncomfortable. It was reassuring to learn that it's a normal reaction going through any change.
Being uncomfortable, being out of my depth, being so unsure and unpracticed at everything is really challenging at times. Particularly as I've been visualising because one of the random results of visualising is that sometimes I do or say things without any thought at all. Even when inside I'm going "…aaahhh! what are you doing!!!" I just keep on going, keep doing or saying whatever. And you know what, it usually works out pretty damn fabulous. A saying that comes up alot with this law of attraction stuff is take action when you're inspired to do so, and that's exactly what I'm doing.
It's damn uncomfortable though.
But why wouldn't it be. I'm changing. And at the end of the day, that is just so damn exciting! Exciting enough to put up with a bit of discomfort and that, dear friends, is the point of visualising.
Being really clear about what your want out of life is empowering. But knowing is not enought. Visualising what it will feel like to get there, to actually achieve your goal is the best motivation that you can possibly have, because, whatever the dream, the visualisation, it feels wonderful to acheive it. And that feeling is what powers the change, the impetus to keep on going despite the fact that it's damn uncomfortable.
So … keep dreaming the dreams, seeing and feeling it coming true and get motivated to make changes. It might feel horrible but if that's where it's taking you, oh my god, so, so worth it.
I'd love to know what you think. Leave a comment.
And just for the hell of it, here's a little Pink.