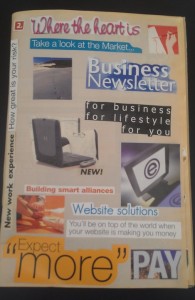 I've been wanting my own business for a long time now. Years in fact.
This is an image of a vision board I made probably 2006 or 2007.
Everything on this vision board I'm pretty much doing right now. Following my heart, looking at the market, doing a business newsletter, networking and trying to get my website to pay.
So it took seven or eight years for me to get to the point where I'm taking action.
That's a sobering thought.
On the plus side though, this is what I want, and I'm taking steps to make it happen.
I spend a lot of time and effort visualising what I want and how it will be to get that. It's a vital tool.
On it's own though, it's next to useless. Sure it feels good, but, unless you marry visualisation with practical steps not much is gonna happen.
For me the most powerful practical step I've taken, so far, has been strategic planning. I took some time to sit down, think about my goals and plan ways to make them happen.
I felt challenged by the process. I couldn't even tell you if I did it right. I already know I was overly optimistic and frankly just plain off base.
But for all that I am moving forward. I have a plan and I'm following it, and although I still feel intense uncertainty regarding making it work, I also feel solid commitment to achieving my goal.
Some how, some way, I will build a successful business that supports me and my family.